Jobportraits Technologie und Produktentwicklung
Unser Team ist verantwortlich für die Instandhaltung und stetige Weiterentwicklung unserer in-house-entwickelten Datenbank. Dafür stehen wir permanent im Austausch mit den Bereichen Product Development, Redaktion, Research und Sales. Neue Ideen, wie beispielsweise neue Datenverknüpfungen oder neue Designelemente, werden auf lokaler und internationaler Ebene entwickelt. Eine weitere Aufgabe in unserem Bereich ist es, die Funktionalität von TD Premium täglich sicherzustellen. Dazu analysieren wir das System durchgehend und garantieren das bestmögliche Nutzererlebnis.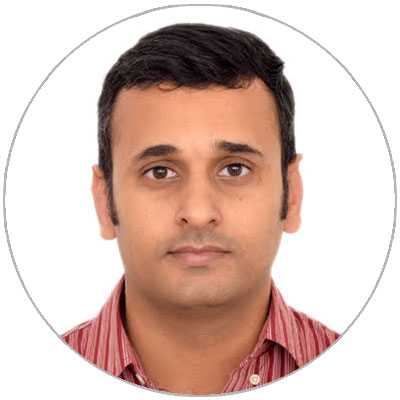 Senior Software Developer
Interview mit Rahul Singh,
Senior Software Developer
Bei THOMAS DAILY seit
März 2019
Mein beruflicher Hintergrund
I am originally from India. I was born in the South, but was raised in the North, I did my higher studies in the North-East. At work too, I have moved around a bit. I have worked in different places across India, the USA, and Germany. I have been working as a software developer for over a decade and a half. Coming from a family of Engineers and Scientists, Software Development happened naturally to me.  Away from work, other things that have interested me from time to time include – riding motorcycles, philosophy and martial arts. With age, I have to admit, I have become more prone to leave all that and just sit in front of a TV with my family. I can perhaps also say that the proximity to the Black Forrest is changing that as well. I am now the proud owner of a bicycle, one that I am using actually for frequent rides into nature!
Warum ich mich für THOMAS DAILY entschieden habe
Being part of a small IT team, that is in charge of development of the main product of a company, is a very unique experience. Between 5 developers and 1 tester, we design and develop the whole product that users see and use. It is very satisfying to be so closely involved with the end product, to be able to see the product we create. The job comes with a lot of responsibility, and is very satisfying.
Bewerbung und Einstieg bei THOMAS DAILY
I am working as a Senior Software Developer in the IT Department.
Mein Aufgabengebiet
The day to day tasks involve adding and improving features in the current software product. A major focus currently is on the integration of our data and features with our parent company – CoStar
Das gefällt mir an meiner Arbeit am besten
There are multiple things here that I like:                   
1. The end to end picture of the product. We put on different hats here: I might discuss the architecture of a certain feature in the morning, code on it myself in the afternoon, and improve on an existing feature in the evening. This wholistic involvement is very satifying. I like understanding the product at different levels, and also, from different perspectives.
 2. Having a say in the quality and health of the project. A benefit that not every development team has, is being able to decide the right set of technologies for each job. When we start on a new feature, we have a good amount of freedom in discussing and deciding on the right tool set. This of course comes with responsibility and is a great learning experience. We also have reasonable freedom in setting our team standards and best practices.
3. A continuous learning experience. The above 2 points ensure a good learning opportunity. I enjoy the learning process, working with parts of the product, those that have existed for many years, and those that we are developing new.
Interview mit Bita Shamsafar,
Software Engineer
Bei THOMAS DAILY seit
Juni 2019
Mein beruflicher Hintergrund
Looking back, I'm one of those people who were interested in programming since I was in school, hence to become a professional in this field and achieve my goals, I have chosen information technology as my bachelor. I studied this field of study in Iran at the Tabriz university and after graduation I immediately started my job in the IT department of IranAirTour airlines. I worked there for 4 years but the job was not that challenging anymore, so I started to look for a better opportunity, until I got an offer from Thomas Daily and started my journey by moving to Germany.
Warum ich mich für THOMAS DAILY entschieden habe
Thomas Daily's field of activity at first glance was really interesting for me when I realized that their major activity is based on data and working hard for offering this data in various user friendly ways to their customers; So for this they need group of programmers working on huge data sources making them easy to access and useful for their customers. Being one of the members of this team was a chance for me.
Bewerbung und Einstieg bei THOMAS DAILY
I had 4 Session interview two was coding and two background check and etc.
Mein Aufgabengebiet
 I'm working as Front End web developer in a 9 people IT team. I have tight relations with Back End developers and as an input I get their job's result, working on it for presentation on Web application of THOMAS DAILY
Das gefällt mir an meiner Arbeit am besten
 "the only way to do great work is to love what you do," Steve Jobs
I do really believe in this quote but beside loving your job environment you work in is really an important factor to lead you to high efficiency, I really enjoy working within Thomas Daily team for couple of strong reasons: first of all good relation and communication provided in teams makes the atmosphere more enjoyable with learning and solving problems in group , Management is one of the other most important reasons makes working for me more enjoyable good discipline, duty split with having no stress and pressure makes the work get done in best way it can.
Interview mit Vitalij Ivannikov,
System Administrator
Bei THOMAS DAILY seit
März 2013
Mein beruflicher Hintergrund
Bachelor Informatik Studium
Official Agent in Germany for StarForce Technologies LTD
Netzwerktechnik/PC-Support – inView GmbH
Netzwerk- und Systemadministrator – TWC Treuwert Computer GmbH
Warum ich mich für THOMAS DAILY entschieden habe
Moderne Arbeitswelt mit flachen Hierarchien und einem Zugang zu den neuesten und innovativsten Technologien. Engagierte, kreative und motivierte Kollegen, die mitgestalten und mitverantworten.
Bewerbung und Einstieg bei THOMAS DAILY
Schnell und problemlos – Einladung zu einem Vorstellungsgespräch am Tag nach der Übersendung der Bewerbungsunterlagen. Festeinstellung erfolgte am selben Tag nach den Gesprächen mit künftigen Kollegen und der Geschäftsführung.
Mein Aufgabengebiet
System Administrator
Das gefällt mir an meiner Arbeit am besten
Vielfältiger Aufgabenbereich – man bekommt die Möglichkeit, an den Aufgaben zu arbeiten, wo man seine Stärken hat und kann sich weiterbilden und entwickeln.
Wir entwickeln uns stetig weiter und sind immer wieder auf der Suche nach Immobilienexperten und Quereinsteigern, die unsere Firmenphilosophie teilen. Wir freuen uns über Bewerbungen zu konkreten Stellenausschreibungen oder initiative Kontaktaufnahmen.